How to Build a Birdhouse
30Jul 2015
You do not have to be a handyman to build a birdhouse. One of the beauties about a birdhouse is its simplicity and how easily you can master its creation just within a few attempts. Even if clumsy at the beginning, you eventually grow into it, and your creation becomes better and better. After the next several attempts you will pretty much become a polished professional.
As long as you have the materials needed, building a birdhouse is as simple as furniture assembly. You nail planks together until you have something that resembles a floor, four walls and a roof. Then you combine them and there you have your very own generic birdhouse to enjoy. But do you not think that something is wrong with it? The keyword being 'generic', does the birdhouse not seem utterly dull to you? Well, of course, it is just four walls and a roof. But if you want to polish your craft or give the birds that pass through your garden a livelier place, you should reach to your creativity. You can play around to create something that is aesthetically pleasing, something that is a marvel to look at, something to make you proud of your work not only because you are helping small animals, but also teaching yourself handiness.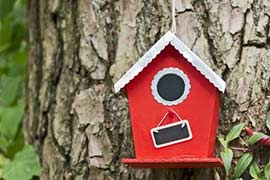 Play around with geometry. Find a different shape for the house, it does not necessarily need to have a cuboid form, you can look for material that bends and give it a more oval shape or maybe even oblong. Delve into your past and remember your geometry classes back in high school, there are so many shapes you can play with and experiment with. And yes, experimenting is what you should do after your first attempt while trying to get used to building the houses. Implement your imagination as much as you can, and think of ways to make the house more interesting. The birds may not appreciate the effort, but your craftsmanship skills will, and the end result will definitely please you. Here are some ideas you can use.
• The birdhouse does not need to be necessarily out of wood. Some people use huge cans, and paint them and disguise them with a roof. Plug the opening at the top and make a hole for the door, and voila!
• You can make one out of straw. How good are you with knitting straw blades? You can get better after practicing to create a few walls.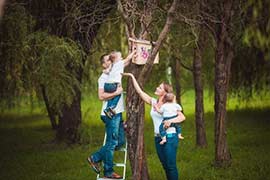 • Some bird 'houses' require only a roof. You can have a platform with a roof attached to a single column, and decorate it with some greenery to have a small alcove for the birds.
• You can place the birdhouse anywhere. It does not necessarily have to be placed on a wall or attached to a tree. You can make it its own pillar and place it in the middle of the garden, or put it next to the mailbox. You can make it a hanging house – hang it down from a branch of the tree in your yard. You can place it somewhere between branches so that it becomes a tree birdhouse. The options are as many as your imagination allows.
• And do not just leave the birdhouse with its dull brown colour. Add something more to its outlook. Paint it with another colour generally associated with nature, add decorations like leaves on top of the roof, or have a vase attached to it – anything, just do not leave it bland.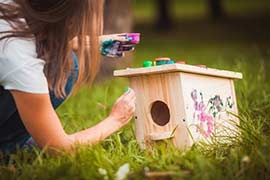 These are the first steps of becoming an expert handyman in birdhouses. Make the base, add decorations, and enjoy your creation. Just do not forget to do small repairs every now and then when necessary. Birds can be quite messy.